Slammers is one family, committed to excellence. It is a joy to celebrate our alumni and recognize their journeys after their youth club careers.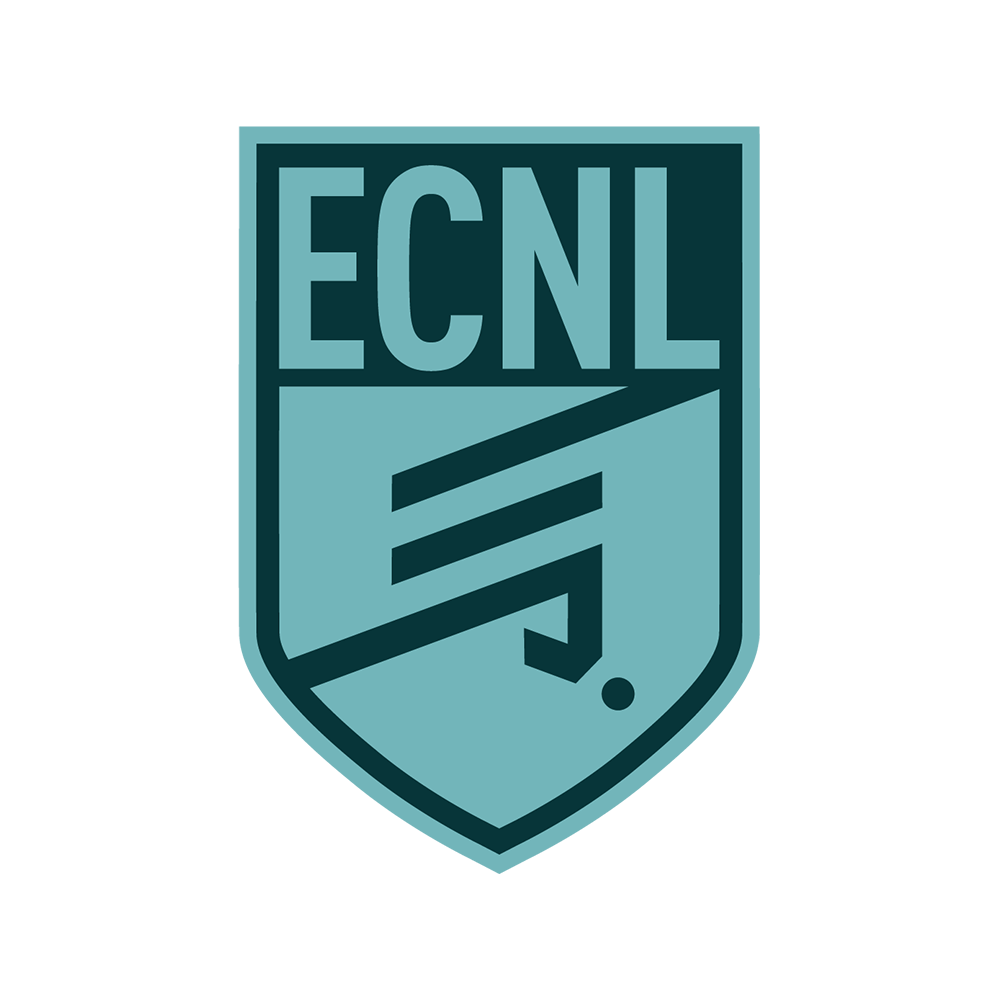 FIVE ECNL OVERALL CLUB CHAMPIONSHIPS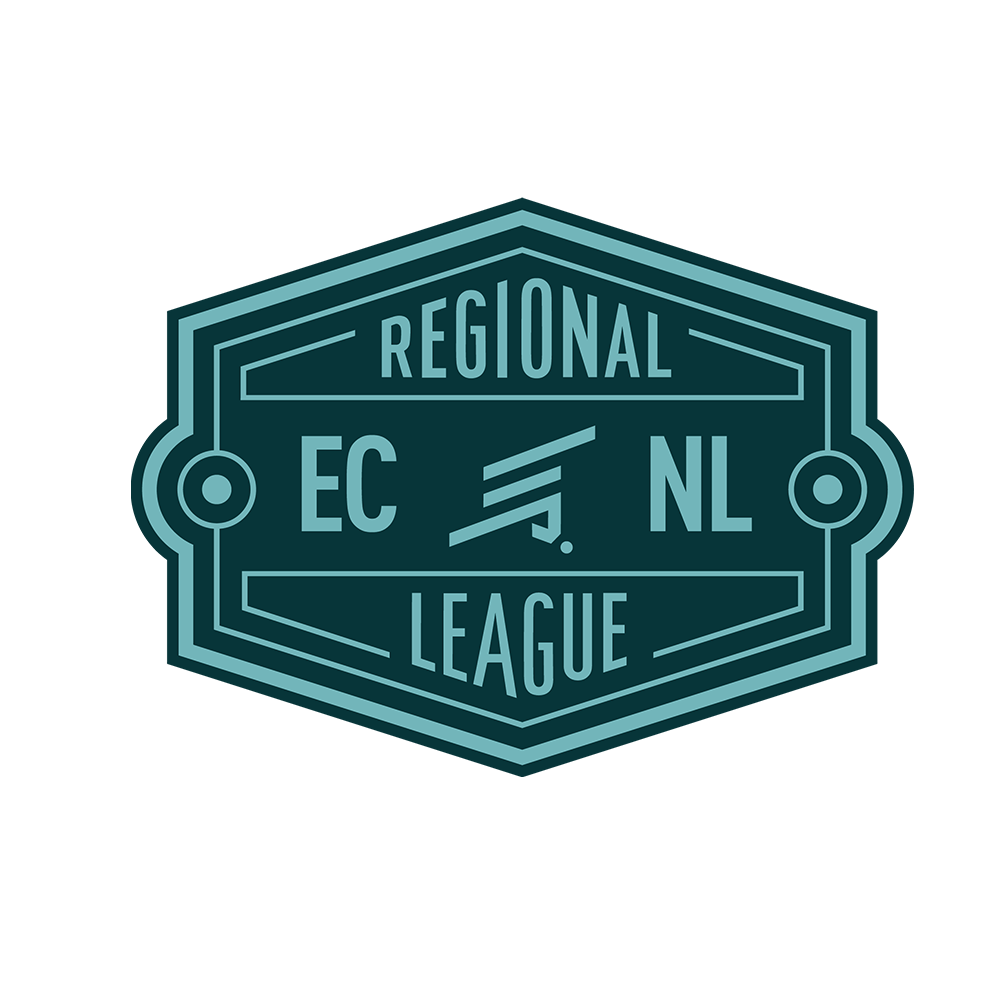 four ECNL-RL CHAMPIONS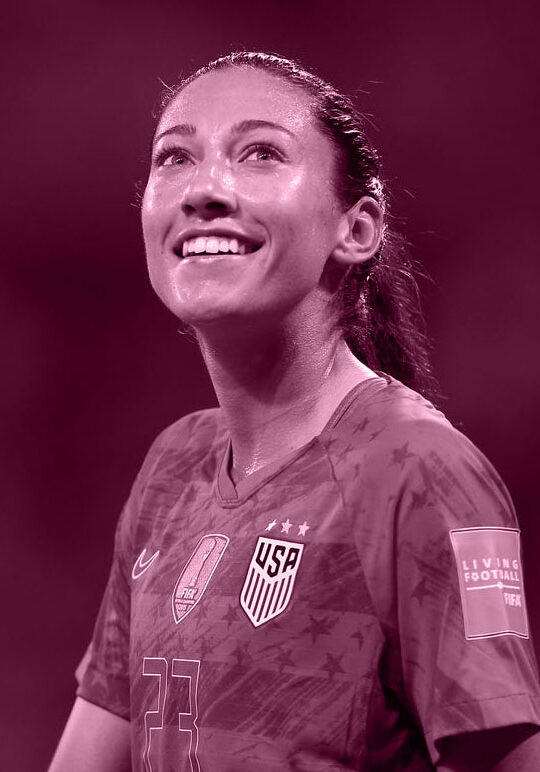 SLAMMERS FC 2007
STANFORD 2011
Born and raised in Newport Beach, Christen played her entire youth career for Slammers. Her team won a national championship and she finished with the Golden Boot.
At Stanford, she holds the all-time scoring record, and was awarded the Hermann Trophy her senior year as the nation's most outstanding player.
Professionally, she has played for Manchester United, Chicago Red Stars, Utah Royals, and Angel City FC. She was WPS Rookie of the Year (2011), and has been named NWSL Best XI four times.
Internationally, she is a two-time World Cup Winner with the USWNT. She's also been on teams that have won CONCACAF, the Algarve Cup, the SheBelieves Cup, and the Tournament of Nations, and she's an Olympic bronze medalist.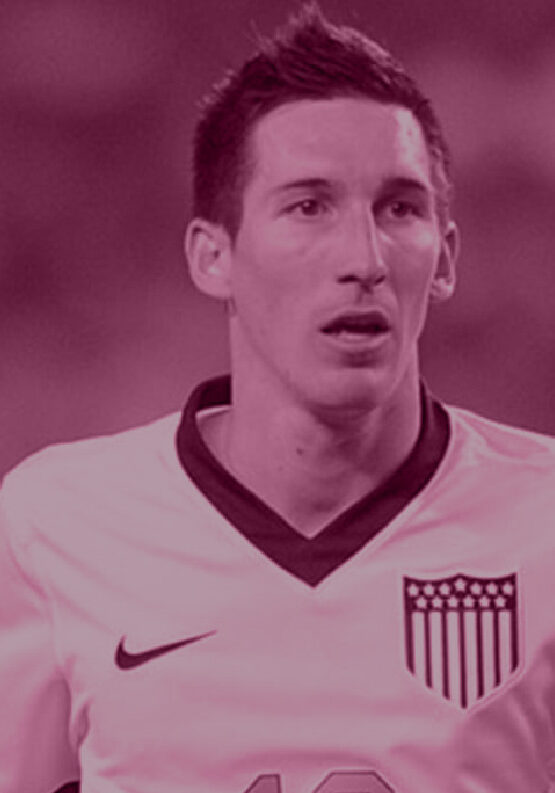 SLAMMERS FC 2002
SETON HALL 2005
A native of Huntington Beach and a fantastic player for Slammers FC, Sacha had an All-American career at Seton Hall, where he still holds the single-season assist record.
He was selected fifth overall in the 2006 MLS SuperDraft. He has represented Chivas USA, Anderlecht, NY Red Bulls, Orlando City, and LA Galaxy as a professional. With Anderlecht, he won both the league championship and the Belgian Super Cup. He's twice been selected to the MLS Best XI.
Sacha has earned over 50 caps with the USMNT, finishing second in the Confederations Cup.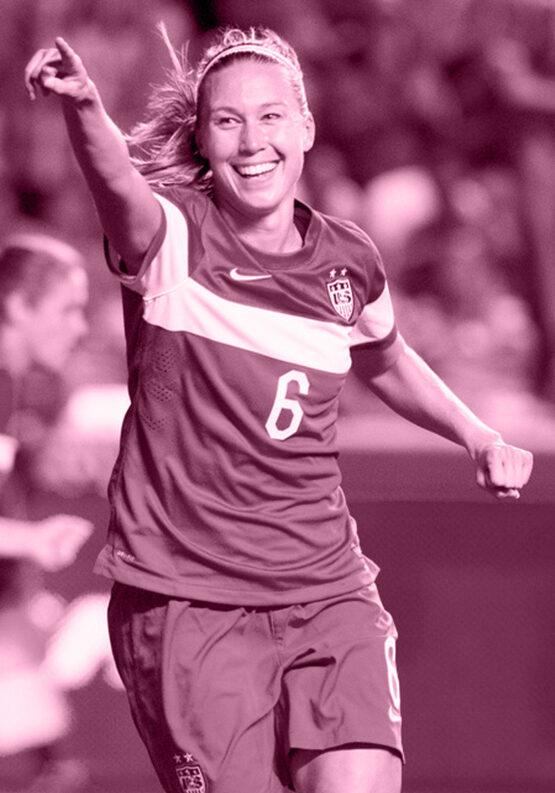 SLAMMERS FC 2005
NORTH CAROLINA 2009
A native of Torrance, Whitney won back-to-back state and regional titles with Slammers, and earned two national top-four finishes. Her ODP team won regional and national titles.
At North Carolina, she played for four years under legendary coach Anson Dorrance, winning three NCAA Division I titles. She was all-ACC both athletically and academically.
Professionally, her clubs have included Liverpool, Chicago Red Stars, Houston Dash, and Boston Breakers. She was 2011 WPS Champion, Defender of the Year, and Top XI. In England, she won the FA Women's Super League.
Internationally, she is a World Cup Winner (2015). In her career she earned 40 caps with the US Women's National team, scoring four goals. She also won the CONCACAF Women's Championship and the Algarve Cup (3x).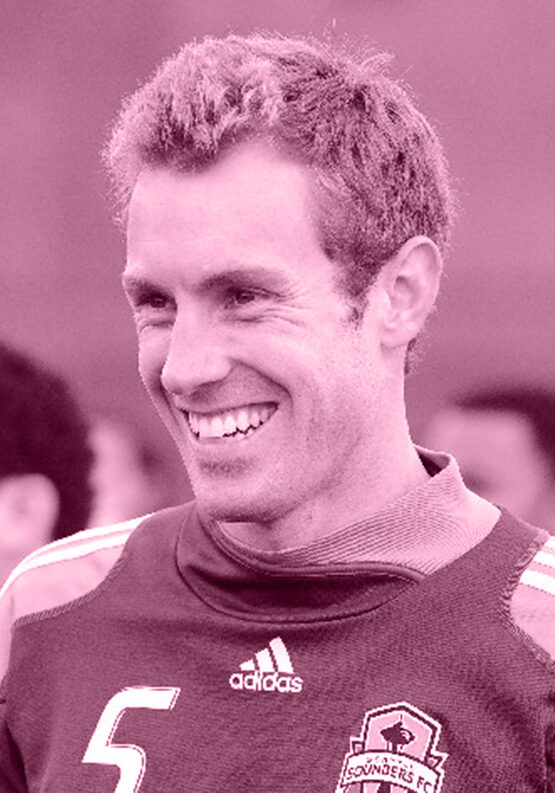 SLAMMERS FC 2002
SETON HALL 2005
Tyson is from Newport Beach, Tyson followed his club career with a stellar career at Cal Berkeley, where he started every match all four years.
He was selected nineteenth overall in the 2006 MLS SuperDraft. He played for Kansas City, Seattle, Montreal, Colorado, and Columbus in the MLS, making over 150 appearances. He won the Lamar Hunt US Open Cup three times while with the Sounders.
ALEXA ORAND
2005 GATORADE STATE PLAYER OF THE YEAR
SACHA KLJESTAN
2008, 2016 MLS BEST XI; 2016 MLS ALL-STAR
WHITNEY ENGEN
2009 HONDA PLAYER OF THE YEAR
KENNEDY WESLEY
2017 GATORADE STATE PLAYER OF THE YEAR
We are proud to list here the Slammers FC alumni who graduated from our program and played at the college/university level.
Thank you for your dedication and hard work.
We congratulate you and wish you well.
| LAST NAME | FIRST NAME | SCHOOL | CONFERENCE | HS Grad |
| --- | --- | --- | --- | --- |
| Miner | Emily | Utah Valley | WAC | 2023 |
| Moschetti | Angelina | Colorado | Pac 12 | 2023 |
| Ramirez | Jessica | Arizona | Pac 12 | 2023 |
| Verplancke | Ava | Pepperdine | WCC | 2023 |
| Dimry | Soleil | Cal | Pac 12 | 2023 |
| McMahon | Malia | Cal | Pac 12 | 2023 |
| Flores | Maribel | USC | Pac 12 | 2023 |
| Anderson | Nicole | New Mexico | Mountain West | 2023 |
| Herrera | Olivia | Arizona State | Pac 12 | 2023 |
| Conner | Cindy | Boise State | Mountain West | 2023 |
| Doherty | Reese | Cal | Pac 12 | 2023 |
| DeStefani | Lindsey | UC San Diego | Big West | 2023 |
| James | Emma | Idaho | Big Sky | 2023 |
| Whelchel | Alysa | New Mexico | Mountain West | 2023 |
| Woodards | Ryan | UNLV | Mountain West | 2023 |
| Leonard | Peyton | Pepperdine | WCC | 2023 |
| King | Savannah | North Carolina | ACC | 2023 |
| Hayden | Christa | Michigan | Big 10 | 2023 |
| Harvey | Shae | Stanford | Pac 12 | 2023 |
| Anderson | Allie | New Mexico | Mountain West | 2023 |
| Cook | Abbey | UPenn | Ivy | 2023 |
| Webb | Sage | Cal State Fullerton | Big West | 2023 |
| Conover | Brooke | TCU | Big 12 | 2023 |
| Marshall | Hannah | Long Beach CC | CCCAA | 2023 |
| Tagge | Sophia | Northern Arizona | Big Sky | 2023 |
| Picon | Yammile | Portland State | Big Sky | 2023 |
| Goehring | Morgan | Montevallo | Gulf South | 2023 |
| Grubert | Ashley | Concordia University, Irvine | Pac West | 2023 |
| Russo | Antonella | Concordia University, Irvine | Pac West | 2023 |
| McGuire | Francesca | Boise St. | Mountain West | 2023 |
| Graham | Grace | LMU | WCC | 2023 |
| Gonzalez | Mikayla | North Dakota | Summit League | 2023 |
| Johsnon | Skye | Cal State Fullerton | Big West | 2023 |
| Gomez | Kaitlyn | Chicago | University Athletic | 2023 |
| Van Deusen | Kiara | Portland State | Big Sky | 2023 |
| DeGidio | Jaclyn | UC Santa Barbara | Big West | 2023 |
| Go | Sabrina | Cal Poly Pomona | CCAA | 2023 |
| Kanaly | Kayla | UC Riverside | Big West | 2023 |
| Jankans | Kaylen | Grambling St | SWAC | 2023 |
| Villanueva | Cassandra | UNLV | Mountain West | 2023 |
| Nepomuceno | Allison | Converse University | Conference of the Carolinas | 2023 |
| Lannon | Katie | Westmont College | GSAC | 2023 |
| Roman | Reyna | Cal State LA | CCAA | 2023 |
| Noble | Kaylee | Cal State Fullerton | Big West | 2023 |
| Walsh | Isabelle | Cal State San Marcos | CCAA | 2023 |
| Nadell | Bailey | Sonoma State | CCAA | 2023 |
| Hallock | Cecilia | San Francisco State | CCAA | 2023 |
| Petteys | Hannah | Utah Tech | WAC | 2023 |
| Hernandez | Nina | La Verne | SCIAC | 2023 |
| Barrett | Isabella | Concordia University, Irvine | Pac West | 2023 |
| Setum | Hannah | Long Beach CC | CCCAA | 2023 |
| Solis | Valerie | Long Beach CC | CCCAA | 2023 |
| Handel | Maren | La Verne | SCIAC | 2023 |
| Myze | Peyton | Cal State LA | CCAA | 2023 |
| Fujimori | Ashley | Soka | CalPac | 2023 |
| Frerichs | Karissa | Ottawa - AZ | NAIA | 2023 |
| Wall | Mylee | Sonoma State | CCAA | 2023 |
| Randall | Alexa | Newberry | South Atlantic | 2023 |
| Grannis | Ella | BIOLA | Pac West | 2023 |
| Hess | Scott | Westmont | GSAC | 2023 |
| Mitchell | Jaylinn | Southern Methodist | AAC | 2023 |
| Graham | Dylan | Concordia University, Irvine | Pac West | 2023 |
| Abarca | Kevin | San Diego State | Mountain West | 2023 |
| Schalliol | Brandon | Concordia University, Irvine | Pac West | 2022 |
| Fisher | Reid | San Diego State | Mountain West | 2022 |
| Weissenberg | Ellie | San Francisco | WCC | 2022 |
| Abusham | Amelia | Navy | Patriot | 2022 |
| Osborne | Anika | UC Irvine | Big West | 2022 |
| Corpuz | Ashley | George Washington | Atlantic 10 | 2022 |
| Cruz | Camryn | St Mary's College | WCC | 2022 |
| Paulson | Danielle | CSU San Marcos | CCAA | 2022 |
| Valenzuela | Elyse | Santiago Canyon | Orange Empire | 2022 |
| Radzai | Emma | Saddleback | Orange Empire | 2022 |
| Haley | Gracie | UC Irvine | Big West | 2022 |
| Griffin | Hannah | Cal State Fullerton | Big West | 2022 |
| Beck | Jillian | Abilene Christian | WAC | 2022 |
| Sprague | Jordan | CSU Northridge | Big West | 2022 |
| Galvin | Jordan | CSU San Marcos | CCAA | 2022 |
| Flanagan | Kaitlyn | Tarleton State | WAC | 2022 |
| English | Josie | Long Beach CC | CCCAA | 2022 |
| Flores | Katie | UC Merced | CalPac | 2022 |
| Grissom | Lauren | Tarleton State | WAC | 2022 |
| Stenstrom | Mackinzie | Soka University | CalPac | 2022 |
| Kendall | Mikayla | Tarleton State | WAC | 2022 |
| Paulson | Natalie | CSU San Marcos | CCAA | 2022 |
| Nelson | Peyton | BIOLA | Pac West | 2022 |
| Fujimori | Rachel | Illinois Tech | NACC | 2022 |
| Perry | Rachel | Emory | University Athletic | 2022 |
| Clark | Rainie | Cal Baptist | WAC | 2022 |
| Urqiza | Riley | Concordia University, Irvine | Pac West | 2022 |
| Shim | Samantha | San Francisco State | CCAA | 2022 |
| Allen | Summer | Cal Baptist | WAC | 2022 |
| Morris | Alexa | Point Loma | Pac West | 2022 |
| Perez | Amanda | Loyola Marymount | WCC | 2022 |
| Stewart | Amaya | Cal Poly SLO | Big West | 2022 |
| League | Aniyah | Michigan | Big 10 | 2022 |
| Rutledge | Cadence | Portland | WCC | 2022 |
| Camacho | Camryn | Long Beach CC | CCCAA | 2022 |
| Green | Chloe | Saddleback | Orange Empire | 2022 |
| Tague | Chloe | Simpson | CalPac | 2022 |
| Cummings | Courtney | Brown | Ivy | 2022 |
| Bernstein | Emma | Emory | University Athletic | 2022 |
| Logan | Esperanza | Eastern Illinois | Ohio Valley | 2022 |
| Burns | Gracie | Southern Methodist | AAC | 2022 |
| Yakel | Bella | Portland | WCC | 2022 |
| Brail | Jordan | Chico State | CCAA | 2022 |
| Master | Josie | Colorado | Pac 12 | 2022 |
| Anaya | Kamy | Mercy | East Coast Conference | 2022 |
| Baker | Maddie | Vanderbilt | SEC | 2022 |
| Bulis | Maria | South Florida | AAC | 2022 |
| Salazar | Marisa | Cal Poly Pomona | CCAA | 2022 |
| Juarez | Nacelia | Curry College | Commonwealth Coast | 2022 |
| Reason | Nona | North Carolina | ACC | 2022 |
| Califf | Paige | Pittsburgh | ACC | 2022 |
| Baytosh | Samantha | Arizona | Pac 12 | 2022 |
| Murphy | Sarah | Loyola Marymount | WCC | 2022 |
| Sargent | Sierra | Michigan | Big 10 | 2022 |
| Petrov | Sophia | Colorado | Pac 12 | 2022 |
| Newkirk | Taryn | Boise State | Mountain West | 2022 |
| Klosinski | Grace | Arizona | Pac 12 | 2021 |
| MacMillan | Mackenzie | Boise State | Mountain West | 2021 |
| Pua | McKenna | Washington State | Pac 12 | 2021 |
| Goggins | Kate | Boston College | ACC | 2021 |
| Perry | Jayden | UCLA | Pac 12 | 2021 |
| Bodas | Reese | Boise State | Mountain West | 2021 |
| Farmer | Aaliyah | USC | Pac 12 | 2021 |
| Jackson | Simone | USC | Pac 12 | 2021 |
| Adams | Kelsey | Pepperdine | WCC | 2021 |
| Gomez | Julia | USC | Pac 12 | 2021 |
| Brown | Ryan | Princeton | Ivy | 2021 |
| Herrera | Connie | Sacred Heart | NEC | 2021 |
| Ocampo | Olivia | Concordia University, Irvine | PAC West | 2021 |
| Pearlman | Sophia | Colorado State | Mountain West | 2021 |
| Nobles | Alexis | San Diego | WCC | 2021 |
| Dunbar | Abigail | Notre Dame | ACC | 2021 |
| Paculba | Kaitlyn | Oregon | Pac 12 | 2021 |
| DePriest | Gianna | Brown | Ivy | 2021 |
| Alba | Savanna | Abilene College | WAC | 2021 |
| Davey | Maxine | Pomona College | SCIAC | 2021 |
| Siege | Andee | Westmont | GSAC | 2021 |
| Merritt | Malia | Ottawa - AZ | NAIA | 2021 |
| Reyes | Alyssa | Long Beach State | Big West | 2021 |
| Hogate | Megan | Texas | Big 12 | 2021 |
| Palomo | Nicolette | San Diego State | Mountain West | 2021 |
| Golan | Samara | Cal Poly SLO | Big West | 2021 |
| Valdez | Syra | Cal Baptist | WAC | 2021 |
| Gabriel | Reinna | Cornell | Ivy | 2021 |
| Cross | Carly | Boise State | Mountain West | 2021 |
| Granger | Lucy | UC San Diego | Big West | 2021 |
| Dodson | Maddison | Stony Brook | America East | 2021 |
| Leroy | Madison | Cornell | Ivy | 2021 |
| Diaz | Natalie | Rice | Conference USA | 2021 |
| Cerdon | Malia | Cal Baptist | WAC | 2021 |
| Leonard | Macey | Brown | Ivy | 2021 |
| Justiniani | Michaela | Boise State | Mountain West | 2021 |
| Potter | Makenna | Boise State | Mountain West | 2021 |
| Ogden | Kara | Penn State | Big 10 | 2021 |
| Strollman | Sage | West Point | Patriot | 2021 |
| Montalvo | Jazmin | Bolia | Pac West | 2021 |
| Hood | Xochitl | UC Santa Cruz | CCA | 2021 |
| Tubbs | Jillian | Point Loma | PAC West | 2021 |
| O'Brien | Riley | Montana | Big Sky | 2021 |
| Guzman | Gabbie | Long Beach State | Big West | 2021 |
| Drake | Sophia | St. Mary's | WCC | 2021 |
| Peterson | Jackie | Embry Riddle | CalPac | 2021 |
| Kamassah | Nadia | Houston | AAC | 2020 |
| Laz | Nicole | Houston | AAC | 2020 |
| Long | Genesis | UC Santa Cruz | ACAA | 2020 |
| Goggins | Emma | Boston College | ACC | 2020 |
| Watkins | Grace | Duke | ACC | 2020 |
| Ray | Emilee | Michigan | Big 10 | 2020 |
| Edwards | Olivia | Iowa State | Big 12 | 2020 |
| Cordelia | Cross | Oklahoma | Big 12 | 2020 |
| Sharts | Sydney | Oklahoma | Big 12 | 2020 |
| Vladic | Jaycee | Oklahoma | Big 12 | 2020 |
| Carbon | McKenna | Cal Poly San Luis Obispo | Big West | 2020 |
| Norman | Mary | Cal Poly San Luis Obispo | Big West | 2020 |
| Phantumabamrung | Madeline | Cal State Fullerton | Big West | 2020 |
| Rodriguez | Destiny | Cal State Fullerton | Big West | 2020 |
| Gehrig | Celine | CSU Long Beach | Big West | 2020 |
| Rodriguez | Skylynn | CSU Long Beach | Big West | 2020 |
| Tuua | Aaliyah | UC Riverside | Big West | 2020 |
| Guidry | Tariq | Marymount California | CalPac | 2020 |
| Sung | Lindsay | Cal Poly Pomona | CCAA | 2020 |
| Malachi | Katelyn | Hope International | GSAC | 2020 |
| Swain | Lanell | Life Pacific | GSAC | 2020 |
| Castelan | Cameron | Wisconsin, Green Bay | Horizon | 2020 |
| Leo | Sophia | Wisconsin, Green Bay | Horizon | 2020 |
| Ferrentino | Mia | Columbia | Ivy | 2020 |
| Hoffner | Cori | Dartmouth | Ivy | 2020 |
| Godwin-Piliavin | Didi | Princeton | Ivy | 2020 |
| Burns | Mia | Boise State | Mountain West | 2020 |
| Santos | Sarah | San Jose State | Mountain West | 2020 |
| Levine | Marissa | UC Irvine | Mountain West | 2020 |
| Rosen | Rachel | Colorado | Pac 12 | 2020 |
| Rasheed | Aubree | Oregon State | Pac 12 | 2020 |
| Briggs | Skylar | UC Berkeley | Pac 12 | 2020 |
| Loza | Isabel | UCLA | Pac 12 | 2020 |
| Quiggle | Megan | Utah | Pac 12 | 2020 |
| Land | Jayla | Washington State | Pac 12 | 2020 |
| Ianni | Alex | Point Loma | Pac West | 2020 |
| Bender | Sydney | West Point | Patriot | 2020 |
| Leist | Angela | Metro State | RMAC | 2020 |
| Miller | Kyle | Whittier | SCIAC | 2020 |
| Henderson | Kate | Alabama | SEC | 2020 |
| Buck | Walter | Virginia Military Institute | Southern | 2020 |
| Ferguson | Caitlyn | Louisiana, Lafayette | Sun Belt | 2020 |
| Dunlap | Neleah | Cal Baptist | WAC | 2020 |
| Ramirez | Jayden | Cal Baptist | WAC | 2020 |
| Duckett | Julianna | Pepperdine | WCC | 2020 |
| Poland | Taylor | Saint Marys College (CA) | WCC | 2020 |
| Blaser | Mackenzee | East Carolina | AAC | 2019 |
| Nighswonger | Jenna | Florida State | ACC | 2019 |
| Wiesner | Kate | Penn State | Big 10 | 2019 |
| Stenslie | Madison | Oklahoma | Big 12 | 2019 |
| Cascapera | Giulia | West Virginia | Big 12 | 2019 |
| Komisza | Alexis | CSU Long Beach | Big West | 2019 |
| Alarcon | Samantha | CSU Northridge | Big West | 2019 |
| Guerra | Brianna | UC Davis | Big West | 2019 |
| Hayakawa | Mirai | UC Davis | Big West | 2019 |
| Johnson | Emily | UC Santa Barbara | Big West | 2019 |
| Ortin | Gillian | Cal Poly Pomona | CCAA | 2019 |
| Alfaro | Hannah | UTSA | Conference USA | 2019 |
| Alday | Savannah | Jamestown | GPAC | 2019 |
| Savannah | Alday | Jamestown | GPAC | 2019 |
| Hill | Sadie | Westmont College | GSAC | 2019 |
| Curry | Madison | Princeton | Ivy | 2019 |
| Robinson | Paige | Kansas Wesleyan | KCAC | 2019 |
| Barham | Nicole | Northern Illinois | MAC | 2019 |
| Dimel | Alex | Missouri Southern | Mid-America | 2019 |
| Denning | Annamarie | Air Force | Mountain West | 2019 |
| Elve | Rachelle | San Diego State | Mountain West | 2019 |
| Zachary | Alex | Saddleback | Orange Empire | 2019 |
| Diaz-Casarrubias | Miranda | Santiago Canyon College | Orange Empire | 2019 |
| Goerlinger | Madison | Arizona | Pac 12 | 2019 |
| Jones | Sophie | Arizona | Pac 12 | 2019 |
| Anderson | Erin | Arizona State | Pac 12 | 2019 |
| Gonzalez | Amaya | Colorado | Pac 12 | 2019 |
| Herrera | Skylar | Oregon State | Pac 12 | 2019 |
| Wesley | Kennedy | Stanford | Pac 12 | 2019 |
| Hueston | Natalie | UC Berkeley | Pac 12 | 2019 |
| Nguyen | Kaylee | UC Berkeley | Pac 12 | 2019 |
| Eisenhart | Jalen | USC | Pac 12 | 2019 |
| French | Katherine | Concordia University, Irvine | Pac West | 2019 |
| Gjonovich | Analisa | Concordia University, Irvine | Pac West | 2019 |
| Kim | Hannah | Pomona Pitzer | SCIAC | 2019 |
| Marchal | Gabriella | Loyola Marymount | WCC | 2019 |
| Smith | Jaida | Pepperdine | WCC | 2019 |
| Casto | Ellyn | San Diego | WCC | 2019 |
| Walencewicz | Malia | San Diego | WCC | 2019 |
| Darden | Mia | Tulsa | AAC | 2018 |
| Oliver | Alijah | Tulsa | AAC | 2018 |
| Interian* | Mattison | Notre Dame | ACC | 2018 |
| Watkins* | Genevieve | Notre Dame | ACC | 2018 |
| McCaffrey | Lauren | Northwestern | Big 10 | 2018 |
| Warren | Madison | TCU | Big 12 | 2018 |
| Hogue | Madison | Texas | Big 12 | 2018 |
| Rose | Jen | Texas Tech | Big 12 | 2018 |
| Lee | Janae | Eastern Washington | Big Sky | 2018 |
| Carpentier | Marie-Josee | Cal Poly San Luis Obispo | Big West | 2018 |
| Viera | Chelsea | Cal State Fullerton | Big West | 2018 |
| Waters | Shae | College of Idaho | Cascade Collegiate | 2018 |
| Duran | Jazmin | Cal Poly Pomona | CCAA | 2018 |
| Farley | Kate | CSU Monterey Bay | CCAA | 2018 |
| Wilson | Casey | CSU Monterey Bay | CCAA | 2018 |
| Burt | Peyton | CSU San Marcos | CCAA | 2018 |
| Bradford | Emy | UC San Diego | CCAA | 2018 |
| Garrido | Sophia | UC San Diego | CCAA | 2018 |
| Gollis | Daisy | Carnegie Mellon | Eastern College Athletic | 2018 |
| Guptill | Michael | Dartmouth | Ivy | 2018 |
| Juarez* | Venicia | Princeton | Ivy | 2018 |
| Rubinelli | Sara | Vassar College | Liberty League | 2018 |
| Tulk | Gabriella | Vassar College | Liberty League | 2018 |
| Potts | Karli | Fort Hays State | Mid-America | 2018 |
| Mwendapole | Kyle | Southern Illinois | Missouri Valley | 2018 |
| Payne | Sophia | Oberlin College | North Coast Athletic | 2018 |
| Ferreira | Nina | Saddleback | Orange Empire | 2018 |
| Garces* | Sydney | Arizona State | Pac 12 | 2018 |
| Loren* | Jesse | Colorado | Pac 12 | 2018 |
| Greubel* | Abby | Stanford | Pac 12 | 2018 |
| Thomas | Renee | UC Berkeley | Pac 12 | 2018 |
| Magliarditi | Taylor | UCLA | Pac 12 | 2018 |
| Fergeson | Aubrey | Biola | Pac West | 2018 |
| Farmer | Scout | Concordia University, Irvine | Pac West | 2018 |
| Wikoff | Sheridan | Point Loma | Pac West | 2018 |
| McDonald | Blair | Vanderbilt | SEC | 2018 |
| Banda | Kevyn | The Citadel | Southern | 2018 |
| Kirk | Amy | Cal Baptist | WAC | 2018 |
| Manzo* | Destinee | Portland | WCC | 2018 |
| Louderback* | Madison | San Diego | WCC | 2018 |
| Dubach | Averee | Tulsa | AAC | 2017 |
| Hart | Kendall | Kennesaw State | Atlantic Sun | 2017 |
| Harper | Faith | Michigan | Big 10 | 2017 |
| Neumann | Hailey | Michigan | Big 10 | 2017 |
| Edwards | Mikayla | Kansas State | Big 12 | 2017 |
| Ramos | Brooke | Kansas State | Big 12 | 2017 |
| Wiehe | Brittany | Eastern Washington | Big Sky | 2017 |
| Oates | Alexis | Northern Colorado | Big Sky | 2017 |
| Covarrubias | Cynthia | UC Merced | CalPac | 2017 |
| Hung | Allison | Cal Poly Pomona | CCAA | 2017 |
| Farr | Allison | UC Santa Cruz | Coast to Coast | 2017 |
| Chong | Kristen | Carnegie Mellon | Eastern College Athletic | 2017 |
| Balthazar Chang | Kailee | Westminster College (UT) | Frontier | 2017 |
| Kealoha Kauanui | Shay | Westminster College (UT) | Frontier | 2017 |
| Haw | Gabriella | Westmont College | GSAC | 2017 |
| Tachick | Halle | Valdosta State | Gulf South | 2017 |
| Hayes | Savanna | Wisconsin, Green Bay | Horizon | 2017 |
| Chargualaf | Jaelyn | Ottawa | KCAC | 2017 |
| Magallanes | Gabriella | Bowling Green State | MAC | 2017 |
| Crawley | Blake | Trinity College | NESCAC | 2017 |
| Sanchez | Modesty | Emerson | NEWMAC | 2017 |
| Weiser | Alexsis | Adelphi University | Northeast Ten | 2017 |
| York | Mia | Adelphi University | Northeast Ten | 2017 |
| Gelfand | Samantha | Aurora | Northern Athletics Collegiate | 2017 |
| Kauanui | Leiolani | Columbia Basin College | Northwest Athletic | 2017 |
| Ward | Siena | Ohio Northern | Ohio Athletic | 2017 |
| Jones | Amanda | Arizona State | Pac 12 | 2017 |
| Cardenas | Hannah | Colorado | Pac 12 | 2017 |
| Sharts | Hannah | UCLA | Pac 12 | 2017 |
| Siemonsma | Sianna | Washington | Pac 12 | 2017 |
| Barton | Danni | Concordia University, Irvine | Pac West | 2017 |
| Jones | Carmany | Concordia University, Irvine | Pac West | 2017 |
| Brown | Krystin | Cal Tech | SCIAC | 2017 |
| Lynch | Morgan | Chapman | SCIAC | 2017 |
| Harris | Rachel | Arkansas | SEC | 2017 |
| Hopkins | Haley | Vanderbilt | SEC | 2017 |
| Roston | Maya | Denver | Summit | 2017 |
| Otterbein | Annie | Emory | University Athletic | 2017 |
| Brown | Taylor | Cal Baptist | WAC | 2017 |
| Winkelmann | Elliott | Portland | WCC | 2017 |
| Copenhaven | Natalie | San Diego | WCC | 2017 |
| Ghazizadeh | Mina | San Diego | WCC | 2017 |
| Melanson | Molly | San Diego | WCC | 2017 |
| Erlbeck | Olivia | Duke | ACC | 2016 |
| Magliarditi | Lexington | Duke | ACC | 2016 |
| Weck | Melissa | Florida Gulf Coast | Atlantic Sun | 2016 |
| Geffrey | Randi | Davidson | Atlantic Ten | 2016 |
| Dennis | Amanda | Penn State | Big 10 | 2016 |
| Hendley | Carina | Rutgers | Big 10 | 2016 |
| Covert | Olivia | Kansas State | Big 12 | 2016 |
| Rocha | Aly | Kansas State | Big 12 | 2016 |
| Bethencourt | Lauren | Cal State Fullerton | Big West | 2016 |
| Wolfe | Kylie | Hawaii | Big West | 2016 |
| Alladdini | Roisin | UC Davis | Big West | 2016 |
| Dunlap | Jacquelyn | UC Davis | Big West | 2016 |
| Sanchez | Estella | UC Santa Barbara | Big West | 2016 |
| Anguiano | Angelique | UC Merced | CalPac | 2016 |
| Gess | Emily | Carroll College | Cascade Collegiate | 2016 |
| Larson | Shayna | Cal Poly Pomona | CCAA | 2016 |
| Erickson | Amanda | UC San Diego | CCAA | 2016 |
| Lodge | Georgia | UC San Diego | CCAA | 2016 |
| Miller | Alexa | Trinity Christian, Chicago (IL) | Chicagoland Collegiate Athletic | 2016 |
| Miller | Taylor | Trinity Christian, Chicago (IL) | Chicagoland Collegiate Athletic | 2016 |
| Trujillo | Alexis | Trinity Christian, Chicago (IL) | Chicagoland Collegiate Athletic | 2016 |
| Walker | Makena | Trinity Christian, Chicago (IL) | Chicagoland Collegiate Athletic | 2016 |
| Dages | Jenna | Louisiana Tech | Conference USA | 2016 |
| Cruz | McKenna | Grace College | Crossroads | 2016 |
| Toohey | Emma | Hastings College | Great Plains Athletic | 2016 |
| Slade | Madison | Vanguard | GSAC | 2016 |
| Flores | Kimberly | IUPUI | Horizon | 2016 |
| Chargualauf | Ashlynn | Ottawa | KCAC | 2016 |
| Lucas | Taira | Ottawa | KCAC | 2016 |
| Miller | Olivia | Middlebury College | NESCAC | 2016 |
| Abelove | Alexis | Aurora | Northern Athletics Collegiate | 2016 |
| Falasco | Samantha | Arizona | Pac 12 | 2016 |
| Kelsey | Devyn | Arizona State | Pac 12 | 2016 |
| Zerbel | Hailey | Arizona State | Pac 12 | 2016 |
| Malatskey | Carly | Stanford | Pac 12 | 2016 |
| Bingham | Julia | USC | Pac 12 | 2016 |
| Wong | Kirstin | Chaminade | Pac West | 2016 |
| Khoury | Olivia | Concordia University, Irvine | Pac West | 2016 |
| O'Connor | Samantha | Concordia University, Irvine | Pac West | 2016 |
| Whitcomb | Kaelyn | Concordia University, Irvine | Pac West | 2016 |
| Valente | Jazmin | Notre Dame de Namur | Pac West | 2016 |
| Sachs | Kaitlyn | Adams State | RMAC | 2016 |
| Grimaldi | Emily | Occidental College | SCIAC | 2016 |
| Mansour | Bridget | Central Arkansas | Southland | 2016 |
| LaMarche | Caitlin | Southeastern Louisiana | Southland | 2016 |
| Padilla | Mercedes | Alabama State | Southwestern Athletic | 2016 |
| Novotny | Claire | Grand Canyon | WAC | 2016 |
| Robles | Ayana | Seattle | WAC | 2016 |
| Leggio | Nicole | Pepperdine | WCC | 2016 |
| Morris | Tara | Pepperdine | WCC | 2016 |
| Stenberg | Hailey | Pepperdine | WCC | 2016 |
| Buckner | Madison | San Diego | WCC | 2016 |
| Doe | McKenna | San Diego | WCC | 2016 |
| Doe | Mikaela | San Diego | WCC | 2016 |
| Hansen | Mackenzie | San Diego | WCC | 2016 |
| Walls | Halle | San Diego | WCC | 2016 |
| Hegardt | Audrey | Santa Clara | WCC | 2016 |
| Brown | Shelby | Southern Methodist | AAC | 2015 |
| Jacobs | Natalie | Notre Dame | ACC | 2015 |
| Ward | Natalie | Notre Dame | ACC | 2015 |
| Westrup | Brianna | Virginia | ACC | 2015 |
| Gazmarian | Brianna | Ohio State | Big 10 | 2015 |
| Simonian | Boo | Cal State Fullerton | Big West | 2015 |
| Reyes | Brittany | CSU Northridge | Big West | 2015 |
| Buda | Victoria | UC Irvine | Big West | 2015 |
| Vogel | J.J. | UC Irvine | Big West | 2015 |
| Morones | Devon | Chico State | CCAA | 2015 |
| Nunez | Liz | CSU Dominguez Hills | CCAA | 2015 |
| Chavarria | Charlotte | CSU San Bernardino | CCAA | 2015 |
| Avonce | Estefany | CSU San Marcos | CCAA | 2015 |
| Jara | Allie | CSU San Marcos | CCAA | 2015 |
| Ramos | Angelica | UC San Diego | CCAA | 2015 |
| Pokipala | Rachel | Westmont College | GSAC | 2015 |
| Mohammadi | Leah | Harvard | Ivy | 2015 |
| Hart | Kate | San Diego State | Mountain West | 2015 |
| Monning | Emille | Utah State | Mountain West | 2015 |
| Spain | Ellie | Texas A&M, Texarkana | NAIA | 2015 |
| Peters | Sydney | College of St. Rose | Northeast Ten | 2015 |
| Franco | Andrea | Minot State | Northern Sun Intercollegiate | 2015 |
| Franco | Ashley | Minot State | Northern Sun Intercollegiate | 2015 |
| Yescas | Leanna | Santa Ana College | Orange Empire | 2015 |
| Mahaney | Brianna | Biola | Pac West | 2015 |
| Gast | Katherine | Concordia University, Irvine | Pac West | 2015 |
| Meyer | Brianna | Concordia University, Irvine | Pac West | 2015 |
| Schmidt | Margaret | Texas A&M | SEC | 2015 |
| Arcebido | Mikayla | Pepperdine | WCC | 2015 |
| Thomas | Danielle | Pepperdine | WCC | 2015 |
| Armendariz | Hanna | Portland | WCC | 2015 |
| Ghobi | Maggie | San Diego | WCC | 2015 |
| Guerra | Lauren | Southern Methodist | AAC | 2014 |
| Oates | Claire | Southern Methodist | AAC | 2014 |
| Hazelriggs | Olivia | Virginia | ACC | 2014 |
| Wilkinson | Nicole | Michigan | Big 10 | 2014 |
| Kraft | Kennedy | Ohio State | Big 10 | 2014 |
| Walts | Nikki | Ohio State | Big 10 | 2014 |
| Milberger | Katie | Baylor | Big 12 | 2014 |
| Block | Audrey | CSU Northridge | Big West | 2014 |
| Palacios | Kiana | UC Irvine | Big West | 2014 |
| Elamcos | Shantae | CSU San Marcos | CCAA | 2014 |
| Boland | Allison | San Francisco State | CCAA | 2014 |
| Flores | Haley | San Francisco State | CCAA | 2014 |
| Morehouse | Kirsten | Swarthmore College | Centennial | 2014 |
| Blanco | Kaela | Concordia College (NY) | Central Athletic Collegiate | 2014 |
| Wong | Jessica | New York University | Eastern College Athletic | 2014 |
| Frederiksen | Rowan | Colorado College | Mountain West | 2014 |
| Arao | Mikaila | Colorado State | Mountain West | 2014 |
| Wiehe | Bryanna | Nevada, Reno | Mountain West | 2014 |
| Cabrales | Â Alexa | New Mexico | Mountain West | 2014 |
| Murphy | Casey | New Mexico | Mountain West | 2014 |
| Schulz | Miranda | Oregon | Pac 12 | 2014 |
| Stiver | Miranda | Oregon State | Pac 12 | 2014 |
| Gibson | Indigo | UC Berkeley | Pac 12 | 2014 |
| Cerda | Mackenzie | UCLA | Pac 12 | 2014 |
| Murphy | Julia | USC | Pac 12 | 2014 |
| DeLeon | Natalie | US Naval Academy | Patriot | 2014 |
| Rand | Francesca | Western State Colorado | RMAC | 2014 |
| Eisendrath | Katelyn | Washington University, St. Louis | University Athletic | 2014 |
| Smith | Allyson | Texas 'Äö Rio Grande Valley | WAC | 2014 |
| Forstot | Savanna | Gonzaga | WCC | 2014 |
| Bermael | Lana | Tulsa | AAC | 2013 |
| Krenik | Sierra | Tulsa | AAC | 2013 |
| Brown | Jaci | Pittsburgh | ACC | 2013 |
| Fernandez | Arielle | Pittsburgh | ACC | 2013 |
| Teegarden | Sarah | Wake Forest | ACC | 2013 |
| Salazar | Tiana | Florida Gulf Coast | Atlantic Sun | 2013 |
| Leong | Gabby | Idaho | Big Sky | 2013 |
| Gharios | Chloe | Cal State Fullerton | Big West | 2013 |
| Hackett | Kailey | UC Santa Barbara | Big West | 2013 |
| O'Connor | Maddie | UC Santa Barbara | Big West | 2013 |
| Wetzstein | Kelsey | San Francisco State | CCAA | 2013 |
| Rupey | Jennifer | San Diego State | Mountain West | 2013 |
| Suarez | Priscilla | Santa Ana College | Orange Empire | 2013 |
| Bauer | Madeline | Stanford | Pac 12 | 2013 |
| Trenary | Samantha | UC Berkeley | Pac 12 | 2013 |
| Levin | Savannah | USC | Pac 12 | 2013 |
| Mills | Kayla | USC | Pac 12 | 2013 |
| Solaru | Sammy | Auburn | SEC | 2013 |
| Watson | Chloe | Kentucky | SEC | 2013 |
| Harryman | Ashlyn | Texas A&M | SEC | 2013 |
| Storay | Kinnedy | Houston Baptist | Southland | 2013 |
| Delaney | Megan | Texas A&M, Corpus Christi | Southland | 2013 |
| Ancheta | Hannah | Denver | Summit | 2013 |
| Rey | Cassidy | Denver | Summit | 2013 |
| Impagliazzo | Elisabetta | Tulsa | AAC | 2012 |
| Pokipala | Nikki | Tulsa | AAC | 2012 |
| Doniak | Makenzy | Virginia | ACC | 2012 |
| Mack | Shainne | George Mason | Atlantic Ten | 2012 |
| Baker | Aubrey | Maryland | Big 10 | 2012 |
| Barrett | Devin | Oklahoma | Big 12 | 2012 |
| Stade | Kassidie | Oklahoma | Big 12 | 2012 |
| Ansara | Jordan | Cal Poly San Luis Obispo | Big West | 2012 |
| Robles | Clarissa | UC Irvine | Big West | 2012 |
| Almazan | Mayra | UC Santa Barbara | Big West | 2012 |
| Cortez | Angelisa | UC Santa Barbara | Big West | 2012 |
| Romanowski | Megan | UC Santa Barbara | Big West | 2012 |
| Walsh | McKenzie | UC Santa Barbara | Big West | 2012 |
| Eide | Morgan | Northwest | Cascade Collegiate | 2012 |
| Campbell | Sarah | CSU San Marcos | CCAA | 2012 |
| Flores | Heather | CSU San Marcos | CCAA | 2012 |
| Patterson | Derek | CSU San Marcos | CCAA | 2012 |
| Watkins | Alexa | CSU San Marcos | CCAA | 2012 |
| Taormina | Andrew | UC San Diego | CCAA | 2012 |
| Arthur | Alaina | Johns Hopkins | Centennial | 2012 |
| Gennrich | Cole | Johns Hopkins | Centennial | 2012 |
| Kaskey | Kevin | Johns Hopkins | Centennial | 2012 |
| Allen | Greg | Carnegie Mellon | Eastern College Athletic | 2012 |
| Gomez | Monica | Seattle Pacific | GNAC | 2012 |
| Gorab | Jack | Brown | Ivy | 2012 |
| Heckmuller | Michael | Merchant Marine Academy | Landmark | 2012 |
| Meckes | Weston | Long Island | Northeast | 2012 |
| Cox | Sarah | Stanford | Pac 12 | 2012 |
| Donahue | Katie | Stanford | Pac 12 | 2012 |
| Case | Mason | UC Berkeley | Pac 12 | 2012 |
| Browne | Emily | USC | Pac 12 | 2012 |
| Owen | Erin | USC | Pac 12 | 2012 |
| Dailey | Christine | Utah | Pac 12 | 2012 |
| Brahs | Allyson | Washington | Pac 12 | 2012 |
| Chin | Kyle | Lehigh | Patroit | 2012 |
| Vail | Brian | Lehigh | Patroit | 2012 |
| Ellsworth | Makayla | Colorado Mesa | RMAC | 2012 |
| Ellis | Taylor | Chapman | SCIAC | 2012 |
| Waymire | Cameron | Chapman | SCIAC | 2012 |
| Donaldson | Natalie | Auburn | SEC | 2012 |
| Cohen | Gayla | Arkansas, Little Rock | Sun Belt | 2012 |
| Kleinmeyer | Asia | Arkansas, Little Rock | Sun Belt | 2012 |
| Nsa | Nicole | Grand Canyon | WAC | 2012 |
| Minssian | Celina | Saint Marys College (CA) | WCC | 2012 |
| Gaal | Connor | San Francisco | WCC | 2012 |
| Larson | Rachael | Southern Methodist | AAC | 2011 |
| Luke | Lindsey | Wake Forest | ACC | 2011 |
| Trevisan | Gia | St. Bonaventure | Atlantic Ten | 2011 |
| Beckley | Madison | Ohio State | Big 10 | 2011 |
| Smitherton | Jessica | Cal State Fullerton | Big West | 2011 |
| Valenzula | Morgan | CSU Long Beach | Big West | 2011 |
| Ford | Brian | UC Davis | Big West | 2011 |
| Jern | Taylor | UC Davis | Big West | 2011 |
| Russo | Victoria | UC Irvine | Big West | 2011 |
| Ellis | Brooke | Trinity Christian, Chicago (IL) | Chicagoland Collegiate Athletic | 2011 |
| Gillen | Anastasia | Brown | Ivy | 2011 |
| Coxe | Francesca | Yale | Ivy | 2011 |
| Cox | Brittney | Kansas Wesleyan | KCAC | 2011 |
| Martinez | Breanna | New Mexico | Mountain West | 2011 |
| Olguin | Madison | New Mexico | Mountain West | 2011 |
| Helmer | Mariah | San Diego State | Mountain West | 2011 |
| Fernandez | Kailey | Southwest Minnesota State | Northern Sun Intercollegiate | 2011 |
| Glanz | Julia | Arizona | Pac 12 | 2011 |
| Davis | Heather | USC | Pac 12 | 2011 |
| Andujar | Tessa | Florida | SEC | 2011 |
| Dimry | Carlee | Tennessee | SEC | 2011 |
| McDermott | Renee | Texas A&M | SEC | 2011 |
| Boyer | Daniel | Houston Baptist | Southland | 2011 |
| Albeno | Kimmy | Lamar | Southland | 2011 |
| Frank | Nicole | Lamar | Southland | 2011 |
| Taber | Kelsey | Ekerd College (FL) | Sunshine State | 2011 |
| Waymire | Cameron | Saint Marys College (CA) | WCC | 2011 |
| Dominic | Natalie | Cincinnati | AAC | 2010 |
| O'Brien | Jordan | Tulsa | AAC | 2010 |
| Broderick | Taylor | St. Bonaventure | Atlantic Ten | 2010 |
| Chambers-Garcia | Shelby | Michigan | Big 10 | 2010 |
| Murphy | Shelby | Michigan | Big 10 | 2010 |
| Dickson | Zoe | Oklahoma | Big 12 | 2010 |
| Hellmann | Kaitlin | TCU | Big 12 | 2010 |
| Hogan | Gillian | TCU | Big 12 | 2010 |
| Dillon | Emily | West Virginia | Big 12 | 2010 |
| Press | Channing | Villanova | Big East | 2010 |
| Godfrey | Kiley | Idaho State | Big Sky | 2010 |
| Antonelli | Federico | Sacramento State | Big Sky | 2010 |
| Bustos | Ivan | Sacramento State | Big Sky | 2010 |
| Hernandez | Sabrina | Southern Utah | Big Sky | 2010 |
| Lilli | Vanessa | Southern Utah | Big Sky | 2010 |
| Benavidez | Kristyn | CSU Long Beach | Big West | 2010 |
| Hause | Kassidy | CSU Long Beach | Big West | 2010 |
| Warner | Wendy | CSU Northridge | Big West | 2010 |
| Shulty | Kevin | UC Davis | Big West | 2010 |
| Afshar | Natasha | UC Irvine | Big West | 2010 |
| Brumbaugh | Shelley | UC Riverside | Big West | 2010 |
| Rodriguez | Helena | UC Riverside | Big West | 2010 |
| Henry | Makenna | UC Santa Barbara | Big West | 2010 |
| Roteman | Kennedy | Southern Oregon | Cascade Collegiate | 2010 |
| Tasbihchi | Nushin | Cal Poly Pomona | CCAA | 2010 |
| Green | Mary | CSU San Marcos | CCAA | 2010 |
| Yeandle | Thomas | Sonoma State | CCAA | 2010 |
| Wathen | Lori | Westminster College (UT) | Frontier | 2010 |
| Wilson | Brianna | Westminster College (UT) | Frontier | 2010 |
| Hensley | Alison | Westmont College | GSAC | 2010 |
| Prioleau | Lainey | Columbia | Ivy | 2010 |
| Springer | Brooke | Kansas Wesleyan | KCAC | 2010 |
| Moses | Kaleigh | US Air Force Academy | Mountain West | 2010 |
| Campbell | Megan | Wheaton College | NEWMAC | 2010 |
| Smits | Lauren | Williams College | NEWMAC | 2010 |
| Daughetee | Genessee | UC Berkeley | Pac 12 | 2010 |
| Messinger | Kathleeen | UC Berkeley | Pac 12 | 2010 |
| Ledezma | Natalia | UCLA | Pac 12 | 2010 |
| Williams | Reed | UCLA | Pac 12 | 2010 |
| Bruno | Mia | USC | Pac 12 | 2010 |
| Mendoza | Allexa | Biola | Pac West | 2010 |
| Gregory | Krista | Point Loma | Pac West | 2010 |
| DeGarmo | Alex | Bucknell | Patriot | 2010 |
| Woolard | Katherine "KD" | US Naval Academy | Patriot | 2010 |
| Thompson | Savannah | Colorado State University, Pueblo | RMAC | 2010 |
| Jun | Camy | Chapman | SCIAC | 2010 |
| Schermerhorn | Chandler | Chapman | SCIAC | 2010 |
| Elliott | Ali | Auburn | SEC | 2010 |
| Mabie | Danielle | Barry | Sunshine State | 2010 |
| Keifus | Kailey | Gonzaga | WCC | 2010 |
| Simien | Danielle | Gonzaga | WCC | 2010 |
| Romanowski | Danielle | San Diego | WCC | 2010 |
| Oughton | Hali | East Carolina | AAC | 2009 |
| Brown | Lindsay | Notre Dame | ACC | 2009 |
| Stevens | Emma | Nebraska | Big 12 | 2009 |
| Fournier | Kali | Oklahoma | Big 12 | 2009 |
| Turang | Brianna | Oklahoma | Big 12 | 2009 |
| Wing | Katie | Georgetown | Big East | 2009 |
| Lazcano | Missy | Southern Utah | Big Sky | 2009 |
| Yukihiro | Jessica | Southern Utah | Big Sky | 2009 |
| Yukihiro | Jessica | CSU Northridge (t) | Big West | 2009 |
| Olvera | Lauren | Pacific | Big West | 2009 |
| Ledezma | Natalia | UC Irvine (t) | Big West | 2009 |
| Noriega | Kristina | UC Riverside | Big West | 2009 |
| Vasquez | Briana | UC Riverside | Big West | 2009 |
| Kennedy | Lauren | UC Santa Barbara | Big West | 2009 |
| Cuevas | Julio | Cal Poly Pomona | CCAA | 2009 |
| Horowitz | Stephanie | San Francisco State | CCAA | 2009 |
| Davila | Kelly | Sonoma State | CCAA | 2009 |
| Langdon | Brittany | Seattle Pacific | GNAC | 2009 |
| Thuve | Kristin | Vanguard (t) | GSAC | 2009 |
| Scanell | Britany | Westmont College (t) | GSAC | 2009 |
| Issa | Ameenah | Kansas Wesleyan | KCAC | 2009 |
| Mahoub | Jennifer | Kansas Wesleyan | KCAC | 2009 |
| Bernay | Maggie | William Smith College | Liberty League | 2009 |
| Jones | Sara | Manhattan College | Metro Atlantic Athletic | 2009 |
| Strom | Samantha | Nevada, Reno | Mountain West | 2009 |
| McCluney | Kaitlyn | San Diego State (t) | Mountain West | 2009 |
| Cerda | Ally | Santiago Canyon College | Orange Empire | 2009 |
| Nogueira | Mariah | Stanford | Pac 12 | 2009 |
| Hein | Lauren | UC Berkeley | Pac 12 | 2009 |
| Bywaters | Zaykia | UCLA | Pac 12 | 2009 |
| Mack | Sierra | UCLA | Pac 12 | 2009 |
| Garcia | Courtney | USC | Pac 12 | 2009 |
| Noreiga | Kristina | USC (t) | Pac 12 | 2009 |
| Smith | Linzey | Redlands | SCIAC | 2009 |
| Vercillo | Darien | South Carolina | SEC | 2009 |
| Barrett | Jayden | Tennessee | SEC | 2009 |
| Bono | Kylie | Tennessee | SEC | 2009 |
| Schmidt | Mary | Texas A&M | SEC | 2009 |
| Cochran | Amy | Lee | Southern States Athletics | 2009 |
| Trujillo | Gabby | Houston Baptist | Southland | 2009 |
| Brooks | Shannon | North Dakota State | Summit | 2009 |
| Henrie | Kayla | Louisiana, Lafayette | Sun Belt | 2009 |
| Oltmanns | Kim | Saint Marys College (CA) | WCC | 2009 |
| Zinke | Jackie | San Diego (t) | WCC | 2009 |
| Derieg | Stephanie | Houston | AAC | 2008 |
| Zavalza | Jessica | Houston | AAC | 2008 |
| Dreyer | Alex | Southern Methodist | AAC | 2008 |
| Alatorre | Natalie | Tulsa | AAC | 2008 |
| McCluney | Kaitlyn | Tulsa | AAC | 2008 |
| Wood | Rachel | North California (t) | ACC | 2008 |
| Digeralamo | Danielle | Oklahoma | Big 12 | 2008 |
| Doniak | Kylie | Texas | Big 12 | 2008 |
| Orand | McKenzie | Cal Poly San Luis Obispo | Big West | 2008 |
| Rosas | Marysol | CSU Long Beach | Big West | 2008 |
| Christopher | Judy | UC Irvine | Big West | 2008 |
| Quevedo | Erica | UC Irvine | Big West | 2008 |
| DiBiase | Laura | UC Santa Barbara | Big West | 2008 |
| Oldham | Alyssa | UC Santa Barbara | Big West | 2008 |
| Segall | Gabi | Cal State LA | CCAA | 2008 |
| Robinson | Lauren | CSU San Marcos | CCAA | 2008 |
| Storness | Nikki | Rice | Conference USA | 2008 |
| Mills | Korrine | Carnegie Mellon | Eastern College Athletic | 2008 |
| Wurth | Janie | Seattle Pacific | GNAC | 2008 |
| Tovar | Vania | Vanguard | GSAC | 2008 |
| Bartlett | Megan | Cornell | Ivy | 2008 |
| O'Toole | Megan | Tufts | NESCAC | 2008 |
| Jimenez | Jamie | Pacific | Northwest | 2008 |
| Giovanni | Courtney | Arizona State | Pac 12 | 2008 |
| Jones | Taylor | Oregon | Pac 12 | 2008 |
| Levin | Camille | Stanford | Pac 12 | 2008 |
| Azimi | Marian | UC Berkeley | Pac 12 | 2008 |
| Burk | Charney | UCLA (t) | Pac 12 | 2008 |
| Madrid | Jessica | Academy of Art and Design | Pac West | 2008 |
| Aliviado | Jordan | Lyons College | TranSouth Athletic | 2008 |
| Burk | Charney | Portland | WCC | 2008 |
| Soro | Ashley | Saint Marys College (CA) | WCC | 2008 |
| Rinkoz | Mimi | San Diego | WCC | 2008 |
| Jackson | Lauren | Kansas | Big 12 | 2007 |
| Dickson | Tianna | Oklahoma | Big 12 | 2007 |
| Larkin | Ashtin | West Virginia | Big 12 | 2007 |
| Goettshce | Allison | Southern Utah | Big Sky | 2007 |
| Murillo | Christina | Cal State Fullerton | Big West | 2007 |
| Martin | Kailah | Cal Poly Pomona | CCAA | 2007 |
| Edwards | Kate | Rice | Conference USA | 2007 |
| Duffy | Caitlin | Bellermine | Great Lakes Valley | 2007 |
| Sumlyasu | Ayana | Yale | Ivy | 2007 |
| Thuve | Kristen | Evansville | Missouri Valley | 2007 |
| Mendoza | Cindy | Pace | Northeast Ten | 2007 |
| Zinke | Jackie | Arizona | Pac 12 | 2007 |
| Press | Christen | Stanford | Pac 12 | 2007 |
| Jeslova | Megan | UC Berkeley | Pac 12 | 2007 |
| Davila | Alyssa | USC | Pac 12 | 2007 |
| Joswick | Kellye | Washington | Pac 12 | 2007 |
| Gregston | Lauren | Biola | Pac West | 2007 |
| Mora | Janna Lynn | Biola | Pac West | 2007 |
| Emerson | Tanya | Tennessee | SEC | 2007 |
| Guertin | Haleigh | Pepperdine | WCC | 2007 |
| Thulin | Kaitlin | Houston (t) | AAC | 2006 |
| Engen | Whitney | North Carolina | ACC | 2006 |
| Fallon | Taylor | Indiana | Big 10 | 2006 |
| Klippert | Amy | Michigan | Big 10 | 2006 |
| Bowyer | Ashley | Ohio State | Big 10 | 2006 |
| Fronk | Kristen | Southern Utah | Big Sky | 2006 |
| Cope | Caty | UC Irvine | Big West | 2006 |
| Issa | Imaan | UC Riverside | Big West | 2006 |
| Lenham | Tammy | UC Santa Barbara | Big West | 2006 |
| Moreno | Natalie | CSU Dominguez Hills | CCAA | 2006 |
| Issa | Imaan | Kansas Wesleyan (t) | KCAC | 2006 |
| Lugo | Alicia | UNLV | Mountain West | 2006 |
| Gordon | Jessica | San Diego State | Mountain West | 2006 |
| White | Leslie | San Diego State | Mountain West | 2006 |
| Thulin | Kaitlin | Santiago Canyon College | Orange Empire | 2006 |
| Tiampo | Samantha | Arizona | Pac 12 | 2006 |
| Bak | Brianna | UC Berkeley | Pac 12 | 2006 |
| Kevorkian | Lisa | UC Berkeley | Pac 12 | 2006 |
| Mazura | Jessica | UC Berkeley | Pac 12 | 2006 |
| Scannell | Britany | UCLA | Pac 12 | 2006 |
| Hernandez | Lauren | Point Loma | Pac West | 2006 |
| Kevorkian | Lisa | Boston (t) | Patriot | 2006 |
| Elliott | Ashlee | Florida | SEC | 2006 |
| Grandy | Leslie | Loyola Marymount | WCC | 2006 |
| Larrabee | Jessica | San Diego | WCC | 2006 |
| Tinyo | Cassie | San Diego | WCC | 2006 |
| Orand | Alexa | Santa Clara | WCC | 2006 |
| Duarte | Nilani | George Mason | Atlantic Ten | 2005 |
| Sparks | Jenny | George Mason | Atlantic Ten | 2005 |
| Alvis | Jamie | Illinois | Big 10 | 2005 |
| Dunn | Jenny | Northwestern | Big 10 | 2005 |
| Johnson | Jenny | Southern Utah | Big Sky | 2005 |
| Sparks | Jenny | Cal Poly San Luis Obispo (t) | Big West | 2005 |
| Schrafer | Julie | CSU Long Beach | Big West | 2005 |
| Henry | Erin | UC Irvine | Big West | 2005 |
| Dunlop | Lindsay | Menlo College | CalPac | 2005 |
| Androsko | Amy | Humboldt State | CCAA | 2005 |
| McChesseny | Alissa | Humboldt State | CCAA | 2005 |
| Ryan | Nikki | Western Kentucky | Conference USA | 2005 |
| Prather | Mackenzie | Bellermine | Great Lakes Valley | 2005 |
| Press | Tyler | Harvard | Ivy | 2005 |
| Jain | Aarti | Princeton | Ivy | 2005 |
| Miller | Samantha | Nevada, Reno | Mountain West | 2005 |
| Thrush | Keri | San Diego State | Mountain West | 2005 |
| Yount | Christi | San Diego State | Mountain West | 2005 |
| Guadagnolo | Jenny | San Jose State | Mountain West | 2005 |
| Scott | Kelsea | San Jose State | Mountain West | 2005 |
| Alvarez | Tiffany | Oregon State | Pac 12 | 2005 |
| Nick | Ashley | USC | Pac 12 | 2005 |
| Massey | Amy | USC (t) | Pac 12 | 2005 |
| Ifland | Saxony | Asuza Pacific | Pac West | 2005 |
| Sheldon | Janae | Southeastern Louisiana | Southland | 2005 |
| Massey | Amy | Saint Marys College (CA) | WCC | 2005 |
| Carter | Kristen | San Diego | WCC | 2005 |
| Mielke | Alexis | San Francisco | WCC | 2005 |
| Colker | Kierra | George Washington | Atlantic Ten | 2004 |
| Smith | Shannon | Baylor | Big 12 | 2004 |
| Dickenson | Traci | Oklahoma | Big 12 | 2004 |
| Byler | Candice | Oklahoma State | Big 12 | 2004 |
| Grimaldi | Niccole | Oklahoma State | Big 12 | 2004 |
| Truelove | Breanna | Oklahoma State | Big 12 | 2004 |
| Sabin | Jenna | Cal State Fullerton | Big West | 2004 |
| Sabin | Shayla | Cal State Fullerton | Big West | 2004 |
| Truelove | Breanna | CSU Long Beach (t) | Big West | 2004 |
| Little | Kelly | UC Irvine | Big West | 2004 |
| Adams | Danesha | UCLA | Pac 12 | 2004 |
| Baduria | Stefanie | Loyola Marymount | WCC | 2004 |
| Bolado | Amanda | Loyola Marymount | WCC | 2004 |
| Johns | Jessica | Loyola Marymount | WCC | 2004 |
| Wolters | Allison | San Diego | WCC | 2004 |
| Kalmbach | Emily | Michigan | Big 10 | 2003 |
| Lem | Allyson | Cal State Fullerton | Big West | 2003 |
| Welch | Lauryn | Cal State Fullerton | Big West | 2003 |
| McLeod | Sarah | CSU Long Beach | Big West | 2003 |
| Coppoletta | Katie | Humboldt State | CCAA | 2003 |
| James | Nicole | Drake | Missouri Valley | 2003 |
| James-Tadman | Nicole | Boise State (t) | Mountain West | 2003 |
| Emerson | Brittany | New Mexico | Mountain West | 2003 |
| Kelly | Kaela | New Mexico (t) | Mountain West | 2003 |
| Childers | Kristen | Long Beach CC | NATYCAA | 2003 |
| Mazura | Alivia | UC Berkeley | Pac 12 | 2003 |
| Janes | Paige | USC | Pac 12 | 2003 |
| Shepherdson | Lauren | USC | Pac 12 | 2003 |
| Duarte | Tasia | Utah | Pac 12 | 2003 |
| Gialamas | Patricia | Washington | Pac 12 | 2003 |
| Kelly | Kaela | Mississippi | SEC | 2003 |
| Brewer | Jennifer | Pepperdine | WCC | 2003 |
| Gray | Joy | UC Irvine (t) | Big West | 2002 |
| Bright | Kristin | UC Santa Barbara | Big West | 2002 |
| Arreola | Liz | CSU Dominguez Hills | CCAA | 2002 |
| Gray | Joy | Long Beach CC | NATYCAA | 2002 |